CMD is constantly updated and improved. Each model year brings a new list of enhancements and new features and fixes where issues were found and reported. Click the links below to see changes in recent model years:
New Features/Changes in CMD 2006
New Features/Changes in CMD 2007-2008
New Features/Changes in CMD 2009
New Features/Changes in CMD 2010
New Features/Changes in CMD 2011
New Features/Changes in CMD 2012
New Features/Changes in CMD 2013
New Features/Changes in CMD 2014
New Features/Changes in CMD 2015
New Features/Changes in CMD 2016
New Features/Changes in CMD 2017
New Features/Changes in CMD 2018
New Features/Changes in CMD 2006
Backup Scheduling. The Backup Scheduling feature allows you to define a folder on your hard drive that will hold internal backups made by a built-in schedule that you determine. You can set four intervals for scheduling backups: a given number of new names added, a given number of sessions using CMD, after a Deposit Register has been printed, and a day of the week.
Hot List. The Hot List provides a pop-up with frequently needed names and phone lists that you compose. The Hot List can contain names and numbers that are in your CMD file, and names and numbers that you do not need to keep in your CMD file. Some examples: local school numbers, your florist, office supply stores, printers, emergency numbers, front-line lay leaders, church office workers, pastors, church maintenance and custodial services, local hospitals, funeral homes, and any business the church regularly uses, or individual someone in the church office frequently calls. The Hot List can easily replace the printed call sheets you probably keep near your phone because you have names and numbers on it you need to access that are not in CMD. Hot List provides a central, easy to access and use electronic call sheet that's accessible with just a click.
Member Household Print Selection. Now you can select Member Household as an easy means to get labels and envelopes printed only for households of your members.
Log-in Revamped. Prior to CMD 2006, if you entered an invalid user name or password, you were rather unceremoniously dumped from CMD. Login has been reworked to allow you up to 3 attempts to get it right before CMD halts.
Free Contributions Manager in 2006! The Contributions Manager is free to everyone who updates to CMD 2006 and onward!
Contributions Updates. A number of important internal routines have been tightened and improved to make reporting more bullet-proof than ever. Plus, internal capacity for recording contributions has been increased significantly. Several small but important improvements have been made to Contributions in some of the statements, pledgers list, giving breakdowns, and more.
Print Names Macros. While some of the Print Names Selections cannot be placed in a macro, many can. For many lists you'll be able to record all your selections and print control parameters in a macro file, which can be called up by selecting from a list of macros. The macro will recreate your selection and print control choices so that all you need do is click Begin Printing. Macros are ideal for complex selections that you need to make more than once.
Profile Forms. Prints a quick personal or family profile from the Enter/Modify/Delete Names dialog along with a picture.
eDirectory update. Your church members can now search out names in their eDirectory program based on Church Offices, Talents, Activities, User 1, and User 2 menus. Now they can find church officers and people who share their interests and activities right on their own computer.
Quick Name Entry. Available within many CMD functions, Quick Name Entry allows you to add new names "on the fly" without having to first leave the function you are working with and go to the Enter/Modify/Delete Names dialog.
Places Scheduling. The first of a people, places, and things scheduling tool, Schedule Places allows you to define spaces in your church plant that may be reserved by church ministry groups, individuals in your congregation, or by your community. You can easily track room usage to prevent double-bookings.
Attendance Entry Improvements. Now you can delete a name from an attendance list right on the Enter Attendance dialog. You may now also call up names already marked for a list so that you can double-check it or to finish posting a list that was only partially completed.
Name and Envelope Number list addition. There's a new function to print the name and envelope number on standard 3-across labels that can be pasted directly onto offering envelopes.
E-Mail Addressing. Two important improvements are found in 2006.2 in response to user suggestions. First, to provide privacy, when addressing e-mails in Print Names, the list of names now goes in the Outlook mail client's BCC address line instead of the regular "To" line. Using the Blind Carbon Copy address line means that others that receive the e-mail won't see the names and e-mail addresses of the others who are also receiving the same message. Second, you can address an e-mail to an individual by clicking a new button on the Individual Name Search dialog. When a name that has an e-mail address is highlighted, you can click the Send E-Mail from Here button and the Outlook mail client will appear with the person's e-mail address populating the "To" address field. All you have to do is add the subject, the message, and send the e-mail.
New Features/Changes in CMD 2007-2008
Internet Maps. With a click of a button, you can now call up an internet map right from the Enter/Modify/Delete Names dialog (US addresses only).
Barcode Scanner. CMD 2008.1 is the first CMD version to introduce the use of a barcode scanner primarily for use with the attendance marking features. You can either print a list of names for tracking attendance that has a barcode beside each name, or you can use the Print Bar Codes Output Form to print bar codes on a label or on a standard business card form in Print Names for any group of names in you wish.
A specific Phone Tree Output Form allows you to create a file for use in Phone Tree or other auto-calling systems.
Additional User Groups have been added to the User Administration dialog.
Backup/Restore functions have been enhanced to include more of CMD's peripheral files, and to make sure that the correct version of CMD is about to be restored to a CMD 2008 program.
All of CMD's preferences files have been renamed. For example, Preferences.CMD has been renamed to CMDPreferences.SFM. We have made this change because some ISPs have blocked out backup data files generated from CMD when they were e-mailed because the ISP filters assumed any file with a .CMD extension was potentially a file that could contain a virus or worm. There are no longer any files in the CMD system that use the .CMD extension, so this should make it easier to e-mail backup data files back and forth.
Improved Show Family dialog. There are actually two improvements here. First, the dialog itself has been made to look a bit nicer. The displayed name contains all elements of the name, and birth dates no longer appear. That column has been replaced by Age.
The second improvement is that in many of CMD's Name Search tools, you can now right-click directly on a name and the Show Family dialog will appear. This is an important improvement for those times when you need to select a name for attendance, to be added to a menu, or in other places in CMD, and you aren't sure that you have selected the right name. By seeing the name in their family context, you will know for sure when you have selected the correct name.
Menu System Overhaul. In versions prior to 2008.1, each menu in CMD was kept in a separate data file. Some examples: MemStatPickList.CMD, SSPickList.CMD, AffiliationPickList.CMD, etc. All menus have now been consolidated into one data file that is fully a part of the CMD data base. The menus appear the same on your screen as before, but they are managed differently. This greatly improves CMD's ability to work · with the menus when CMD is used on a network, plus it means CMD only has to manage one file instead of 15 or so! We had anticipated eliminating the 300 element limit on each menu, but that was not implemented in this update. If you are bumping up against this limit in one of your menus, let us know and we'll try to expedite this improvement for 2008.2.
eDirectory Improvement. When exporting data files to eDirectory, you can now check an additional option if you wish to mark non-members that are exported to eDirectory with an * character. This mark shows up on the tab pages that list each individual in eDirectory.
Added the ability to remove names from a menu list when working in the Add Names to a Menu Field item on the Utilities Menu. To remove a name from a menu list, click on the name in the Current Names List to highlight it, then right-click on the name to delete it. Before you had to leave Add Names to a Menu Field, go to Enter/Modify/Delete Names to remove the name who doesn't belong on the list, and then return to Add Names to a Menu Field. Now it can all be handled in one place.
Added Dymo® LabelWriter™ address labels on the dialog available on the Individuals Name Search dialog and Enter/Modify/Delete Names dialog where you can print an envelope (and now a label) to an individual. These inexpensive printers are very useful for printing one or just a few labels. They are cheaper in the long run than laser/inkjet labels, plus you can use the Dymo Printer to print name tags/badges (either while marking names for attendance, or for printing name tags without marking attendance).
CMD Training Video series visually demonstrates how features work showing actual screen recording using the features demonstrated. These videos run from 1:30 to 7:30 in length, most averaging under 3 minutes. 21 training videos are included in this update, with more on the way.
The Pledgers List report on the Contributions Menu now optionally reports the amount given YTD along with amount pledged for each name on the list.
Choices in the First-Step Selection box in Print Names have been re-ordered. Now Field-based Selections is the default choice, making all the fields available immediately for use in a selection.
Iterative Reports allows batch printing of reports on multiple groups in one operation.
New options for the Individual Name Only and Family Name Only Output Forms to print in up to 3 columns, on file labels, mailing labels, and sign-in sheets.
Presets & Wizards make short work of printing common lists in CMD.
Church Directory debugging help. Now CMD prints information at the end of a church directory to help you debug problems with your names.
Import menus utility brings in menus from an old file if they didn't import properly in your original data import from a prior version.
When printing mailing labels, CMD now eliminates duplicate labels printed when both husband and wife match the selection criteria.
There are 3 new Church Directory output options: Format B/Pictures Intermix (pictures print within Format B so that you do not have to print separate pictures and address information), 5.5 x 8.5, One Family Per Page (for easy distribution to your church family when a new family joins your church), and a names only form.
The way CMD uses pictures has been changed! This is very important! Even if you do not use pictures, you should complete the steps in this guide to establish the folder for pictures so that your configuration will be accurate.
Backup and Restore have been modified to deal with the changes in pictures. Pictures are backed up and restored separately. Note that you can pass the core CMD data files between computers without pictures and CMD will function normally in all respects except, of course, that it cannot display the pictures. The means you can more easily e-mail your backed up data since the pictures are backed up separately.
The look of the Contributions Statements has been freshened up using more information at the top of the statement along with consistent use of proportional spaced fonts.
Implemented the first use of a new field added to CMD in 2008 called Regular Contributors. Its first function is to give you a fast means of filtering your names list to only those names who contribute regularly to make your donations entry faster and more direct.
Local User Preferences allows many of CMD's preferences to be set locally, meaning they are not carried with the data when it's transferred from one computer to another or when accessing CMD on a network. This makes it easier to tailor CMD to work best on a specific local computer.
Attendance Entry has been enhanced with a new method of marking attendance and/or printing name tags. This new method can user either a touch screen computer or your mouse. It's designed to be used in your church lobby, either by your members themselves or a volunteer that you train. The last four digits of the phone number is entered, and all names associated with that number appear. Using the touch screen or your mouse, you select all names who are present and click one button. In that one operation, CMD marks them present and prints a name tag for them.
Help File Type selection. Now you can select which type of help files work best with your system by a choice on the Help Menu. CMD 2008.3 ships with two kinds of help files. If one type does not show correctly on your screen when you click a Help Button or press F1 on a dialog, try selecting the other Help File option, which is almost sure to work.
Family Profile sheet has been included when you click the Print Profiles speed button on the Enter/Modify/Delete Names dialog.
Bug that were Reported and Fixed in 2008
Some pledge statements did not correctly report amounts in the Prior column.
Statements were not printed for Pledgers who did not give during a given period.
The on-line Help files were not visible to Vista users without downloading a file from Microsoft (they no longer included the classic WinHelp engine with Vista, but was available as a free download from them). CMD now provides two types of help files so that it can work natively in Vista and/or XP and earlier.
Auto-backup. A bug was discovered that caused the data dictionary not to be included in the automated backups CMD was making. Note that this did not affect backups that you made manually or at the prompt of CMD, only those made without your intervention. You can safely delete all the auto-backup files for 2008 prior to this date from your computer as they are useless. Files from this date onward, however, are fixed and contain the data dictionary and all other necessary data files.
If something went wrong with your import or your data files got damaged, you could have seen a tbBackupInfo error message and found yourself caught in an endless loop that wouldn't let you exit without using Task Manager. CMD now has an internal trap that watches for any error condition so you can always gracefully exit CMD if necessary.
Fixed issue with resizing columns in the Find Individual dialog. Changes made to the columns to look best for your screen and resolution would go back to the old settings when you next returned. It works correctly now so that any column adjustments stick.
User Name & Password Definition. This was a hard one to track down, but we finally were able to with the help of one of our faithful users. The problem turned out to be mixed case passwords. In 2008.2, all password edit boxes now force lowercase entries, which eliminates the problem.
New Features/Changes in CMD 2009
When printing mailing labels, CMD now eliminates duplicate labels printed when both husband and wife match the selection criteria.
The elimination of duplicates also now extends to postcards and envelopes.
The Interest File, our headline new feature, allows you to track those who are interested in your church. Though the actual names and addresses are placed in the main CMD data file, the other fields that are specific to the interest file are stored in a separate file, and a page on the Interest File dialog allows you to print names in the interest file.
Video Training for the Interest File. Six new videos will teach you how to use this new feature visually. Each video covers a different aspect of using the Interest File dialog.
Special Note: As of this writing, the web service that warehouses the videos has a bug in their script. Their bug does not affect your ability to view the videos, however. When you call for a training video, a browser page will appear, and in a few moments you'll see the video displayed in the background. It's usually at this point the error message pops up. There is a choice on the message that you can click to continue (click Yes) and the video will play without difficulty. You'll need to click the large Play button in the middle of the screen to actually get it started. Hopefully they will remedy this issue soon.
The way CMD uses pictures has been changed! This is very important! Even if you do not use pictures, you should complete the steps in this guide to establish the folder for pictures so that your configuration will be accurate. This is a late change in 2008, so I'm repeating it here in this new features guide for those users who have updated to CMD 2009 without having updated to 2008.
E-Mail Improvements: You can now elect to send e-mails to an Outlook e-mail client, or you can send the e-mails to the Windows clipboard with either a comma or semi-colon as the delimiter. This will enable you to use e-mail programs other than Outlook to send your e-mails.
Events. This is a bonus feature that I've included in this update if it's useful to you. At our church, we do a yearly resurrection pageant and we needed something to track all the participants. So I created Events as a special feature just for us. I include it in CMD 2009 in case you ever have a large scale program for which you need to track participants.
Video Training Expansion. I had hoped to have more ready for this update, but I have been in the process of switching over to an upgraded computer which greatly facilitates the recording and producing of the videos, but I did not receive it in time to complete as many videos as I had wanted. However, I will be adding some new videos with each update in 2009, so more are on the way.
Built-in e-mail client. Instead of using the slower and sometimes difficult Outlook program, CMD now has its own built-in e-mail client. Simply tell it the mail server names and valid e-mail address, and you can send e-mails to CMD names directly in CMD either individually or as a group of names selected in Print Names.
Global/Local Preferences. Now there are two types of preferences in CMD: global, which affect all users such as field names, menu items, etc. Local preferences allow you to tailor CMD to a particular machine for things like printer offset values, shading density, name formality, menu selection defaults, etc.
Remote Access. Now you can access your CMD data files from a computer off-site from where the data is located. This remote access requires the use of the optional Advantage Database Server software that can be purchased direct from Software for Ministry. Based on the number of concurrent connections needed, this server software enables remote access as well as speeds access of CMD users in a local user network.
If you wish to have more information about remote access, please e-mail mic@softwareforministry.com and request a PDF FAQ file that explains the process in detail.
New Features/Changes in CMD 2010
There is a new wide screen version of the Enter/Modify/Delete Names dialog for those with wide-aspect monitors that support a resolution of 1440 x 950 or greater. This wide screen version has a larger type size throughout, and also displays an additional section on the right-hand side of the dialog with a new tabbed notebook that allows you to display the Family Picture, the currently-selected individual's comments, visitation, attendance, and work/school information.
The Find Data dialog is accessible within the Enter/Modify/Delete Names dialog so that you can search for a name by most any item of information without having to leave Enter/Modify/Delete Names.
The Visitation dialog is now accessible as it has always been as a choice on the Enter/Modify/Delete Names dialog, and is now additionally available as a choice on the Names Menu. This will bring up Visitation as a stand-alone function, which will make it more efficient to use when you need to enter visitation for a number of names. When using the stand-alone version of the Visitation dialog, a Name Search dialog appears to allow you to select the name for whom you wish to enter, modify, or view visitation information.
The Print function has been implemented on the Visitation dialog to allow you to print a visitation history for the currently-selected individual without having to go to Print Names to print the same report.
There are a few new keyboard short-cuts for some of the major dialogs:
Ctrl-C calls up Enter/Modify/Delete Contributions

Ctrl-S opens the Statements dialog

Ctrl-V brings up the stand-alone Visitation dialog

Ctrl-W opens the

wide screen Enter/Modify/Delete Names dialog

Ctrl-I brings up the Interests dialog
There are several new speed button icons on the speed bar: a new one for the wide screen Enter/Modify/Delete Names dialog, one for contributions statements, and one for contributions entry.
CMD 2010 utilizes Windows XP, Vista, and Windows 7 themes. CMD's colors are based on the theme you have selected for your computer. Buttons, menus, dialogs, etc, have the more rounded shape of themes.
The list of menus on the Edit Menus dialog, accessible when you select Menu Items (pick lists) on the Preferences Menu has been alphabetized to make it easier to find the menu you need to edit. You may also now print a list of any menu's items on the Edit Menus dialog.
The Positions menu used on the Church Office Terms dialog (nominating committee functions) is now user-defined.
Contributions improvements:
A new Account Field Options drop-down menu on the Enter/Modify/Delete Contributions dialog allows you to determine if editing should be allowed in the Account fields when entering contributions. If you allow editing, then you can essentially add a new account to your accounts list on the fly. When CMD senses that you have entered an account not currently on your list of accounts, it will ask you if you wish to add what you have just entered to the accounts list. Click Yes to add, or click No to not add to your Accounts list. The other option on the Account Field Options drop-down menu will make it so that editing is not allowed. Both of these improvements will make it easier to keep spurious account names from being entered. Here is a link to see/hear a guided screen-grab video of these new improvements: http://www.screencast.com/t/NGMyMjA2
If you click the Goes By field header on the Contributions dialog's Name Search box, First Name will be displayed in that column. To switch back to Goes By, click the First Name header.
There is now a Print function on the Define Contributions Accounts dialog so that you can quickly print a list of all your contributions Accounts.
VERY IMPORTANT NEW FEATURE: When you attempt to delete a name on Enter/Modify/Delete Names, CMD will now check to see if there are contributions recorded in that person's name. If so, a dialog will appear that will allow you to either abort the deletion, proceed anyway, or reassign the contributions to a surviving family member. If you elect to reassign, the donations made in the deleted name's contributions records will be transferred to the name you have selected and then the name will be deleted. Here's a screen grab showing what this warning screen looks like:
Here is a link to see/hear a guided screen-grab video of this important new feature: http://www.screencast.com/t/NjZkZGEwNjI
CMD now records sent e-mails using the new built-in e-mail client implemented in CMD 2009.2. They can be viewed by clicking Tools | E-Mail | View Sent E-Mails.
CMD now prints any date list to a text file when you choose Dates as the Output Form and Disk as the Destination. By default, an extension of .doc is provided, but you can change that to any extension you wish.
Church Directory Formats A, B, and C (including the Format B pictorial option) have been updated to allow for the printing of birthdates and anniversaries. The selection to include these dates has been added to what we used to call the Phones Setup dialog, accessible when you select Format A, B or C as the Church Directory Form. That dialog has been renamed Phones/Dates Setup.
PDF Export now includes pictures. This enables you to export a pictorial directory to a PDF file which you can then distribute to church members. The picture quality in the export may be sufficient that you will no longer need a full-version copy of Acrobat to create a PDF that will be suitable as the basis for printing the pictorial directory.
To access the PDF export, you will need to first send your church directory to screen. Once the preview is on the screen, click the small floppy disk icon near the upper left corner of the preview dialog, or click File, Save As. In either case, a standard Windows Save dialog appears. Be sure the format shows PDF at the bottom of the dialog in the drop-down menu that says Save As Type to its left. If not, open the drop-down box and select PDF. You'll need to supply a file name and location as you would with any other document.
When finished, you can double-click on the resulting PDF file, and Acrobat Reader should open it for you.
Visitation Assignment Page. Now when you open the Visitation dialog, the Print button is a drop-down menu of two choices - visitation history (the same form that's been available already), and the new Visitation Assignment page.
To use the assignment page, you need to first create a new visitation entry. You'll enter the date, the person assigned to make the visit, what kind of visit it is to be, and then you can use the comments field for the visit to state the purpose of the visit. If you wish, you can take advantage of the directions feature so that directions from the church to the home of the person to be visited by using the ~DIR~ marker in Family Comments.
Since this is an assignment for a future visit, this visit should stay on top of your visits list as the first entry. The assignment information used in the form is always taken from the very first, top-most entry.
Once you have entered the information for the visitation assignment, you can click the Print button and select the option to print the Visitation Assignment. If you wish to limit the visitation history that's printed, you can click on the visit that represents the last entry in the visitation history that you want to include in the assignment page. If you select the top-most or the bottom-most visit, all visits will be printed. If you select a visit that is somewhere in between, then CMD will include only those visits between the top-most visit down to and including the one you selected.
New Features/Changes in CMD 2011.1
New Fields
Several new fields have been added to CMD in 2011:
Parish is a new field available in the Family Data area. The list of parish groups or identifiers is completely user-definable. You can print names based on their Parish, and the Parish can optionally be printed in church directories.
Two new fields record the date a family is first entered into CMD along with the User Name of the person who entered the new family.
Two new fields record the date an individual is first entered into CMD along with the User Name of the person who entered the new individual.
Added a field to mark an e-mail address as Confidential so that it will not print in church directories.

Added a new field allowing use of externally-generated bar coded numbers that can be used for marking attendance and/or printing name tags. The functionality of this feature will be completed in 2011.2.

Several new fields were added to the data structure to enable web access.
Enter/Modify/Delete Names Changes
Several Features changes of note can be seen on the Enter/Modify/Delete Names dialogs:
The Family Name field edit box has received a significant makeover. It has been redesigned as a history list field similar to the City, State, User 3, and Occupation fields. The reason for this change is that now you can have a visual check as you are entering a new family name to make sure you have not already entered the family into CMD.
When you start typing the new name, CMD will attempt to "finish" the name for you by putting in the first entry in the file that could conclude the name you are entering. In the example below, notice that some of the text is in normal type, while some of it is highlighted: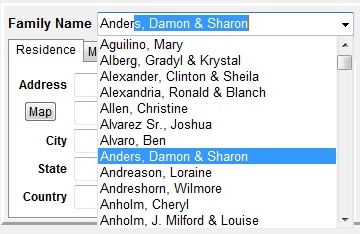 In the above example, I typed in Ander and CMD filled in the rest with a name that could be completed by a name already in CMD. I was trying to type Anderson, but in the above example, I opened the drop-down box so that I could also check ahead in the list of names already in the Family Name field and could see that there is no match. In that case, I would simply finish typing in Anderson followed by their first names. If there was already a match, all I would need to do would be to click the X icon in the navigation bar and CMD would back out of the entry for the new family since it was already there.
There are a couple of notes on this feature that are important. First, if you wish to enable this history list as the default behavior, go to the Local Preferences dialog, select the Family Name History List page, and check the option there. This is important because unlike other fields that are also history list fields, CMD doesn't actually save this history list to disk in order to implement this with the least discernable performance impact. Writing to and from your hard disk actually slows down the process more than if we just re-read the Family Name field from your CMD file each time you go into the Enter/Modify/Delete Names dialog. So, you will sense a slight delay when going to Enter/Modify/Delete Names. The delay will be longer if you have an older, slower computer, or if your list is very large. In my testing with a list of just over 2500 families, the delay was about 1 second.
If you do not want to CMD to auto-build the Family Name history list each time you come into Enter/Modify/Delete Names, go to the Local Preferences dialog, select the Family Name History List page and then uncheck the box there.
If you decide you want to make use of the history list after you are already in Enter/Modify/Delete Names, just right-click within the Family Name field itself and a menu will pop up that will let you either turn on or off the feature:

There are two additional selections on the Settings page of the Address notebook. You can now elect to print more than one address for names when they appear in the church directory. As you can see below, you can now select Residence & Mail and Residence & Alternate. If you select one of these two new options for a given family, both their selected addresses will be printed in the church directory if you are using the new Customized format.
There is a new Parish field selection box just under the Alt Phone field. To select the Parish, drop the list down and make a selection from the list.
Farther down the Enter/Modify/Delete Names dialog, you'll notice more changes: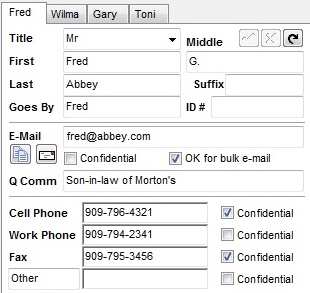 Note the the new Confidential field under the E-Mail field. You can now mark any individual e-mail address as confidential so that it won't print in a church directory. This field does not impact the sending of e-mails in a group e-mail or when you include e-mail addresses in a name and phone list. Additionally, we have moved the Ok field from the end of the e-mail edit box to below the e-mail field so now it can say something more descriptive: Ok for bulk e-mail. Uncheck this box if it's not ok to include this e-mail in bulk or group e-mails. Additionally, there are two new icons just under the E-Mail field name. The left icon copies the e-mail address you see in the field directly to the clipboard. The icon with the letter on it calls up CMD's internal mail client already address with this name's e-mail so you can send an e-mail right from within this dialog.
We have deprecated the Pager field in 2011.1. The field is still in the database, but it's no longer accessible in CMD 2011.1. If you feel you still need this field and cannot use the Other phone field for this purpose, please contact us and we will consider putting it back it.
There are some changes on the right side of the Enter/Modify/Delete Names dialog as well where the set of icons are displayed toward the right side of the page: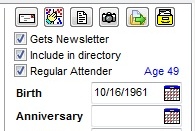 There are now six icons for special functions on the names currently selected. If you hover your mouse pointer over any of them, a pop-up reminder hint will display the name of the function each icon represents. They are, in order:
Print label or envelope for the currently selected name

Reorder tabs. Use this function when you wish to reorder the tab order of the names in the family

Print profile (you can select either a family or individual profile). An quick and easy way to get a printed profile of the individual or family

Individual picture

Move this name to their own new family. Use this function when a person in the currently selected family needs to be moved to their own separate family unit

File information about this name. This dialog displays internal record number information, date of first entry (it doesn't go back, but only creation dates from the time you start using CMD 2011.1 and onward are recorded), the user name of the person who entered the name or family record, the picture file name, the date the individual and family was added to CMD (starting with CMD 2011.1 and onward), the user name who created the family or individual, and a few other items.
Print Names
Several new selections are provided for on the Selection page:
Regular attenders

Regular Contributors

Parish groups
Several fields will work a bit differently. In each of these cases, when they are selected, the edit box that will contain the information you enter for CMD to match will enlarge. In order to make room for the three additional fields listed above, we had to rework the screen real estate a bit. This required the use of special components that enlarge when they have the focus. The fields impacted are:
User 3

Occupation

Join Specifics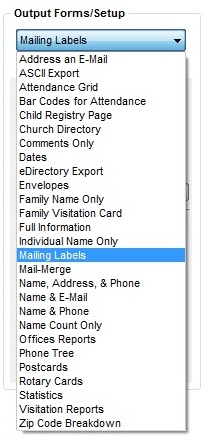 You'll notice that the list is now alphabetized. Should make it a lot easier to find the form you need.
Note also that Address an E-Mail is the very first choice. While you will still be able to generate e-mails the old way when printing Labels, Postcards, and Envelopes when you also select the Address E-Mail if Available check box, you can now just select the Address an E-Mail Output Form. No printed forms of any kind will be generated. It will only work with e-mails. Note that it uses the same settings on the E-Mail setup as does the earlier method of sending e-mails.
The most important new addition to the Print Control page of Print Names is the new Customized Format church directory option. This option provides many additional options for the way your printed church directory can look. It is selected from the normal list of church directory format options.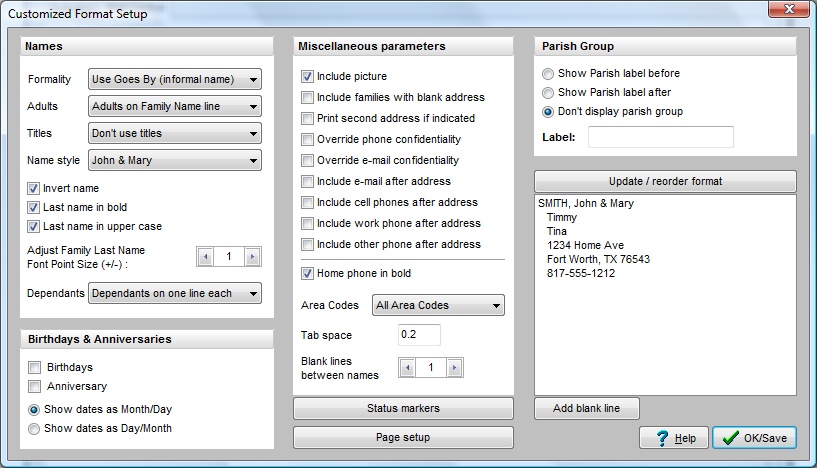 You have many more parameters that can be set for much finer control over the way your directory will look. You can even reorder the elements of the directory form by dragging and dropping items with your mouse in the sample box above.
The Customized Format also necessitated some changes in the Page Setup dialog. These changes include adding a third column, explicit column starting values, and vertical lines to set off the directory text better.
Miscellaneous Changes
The Add Names to a Menu Field function on the Utilities Menu now allows you to pick from virtually all of the menus from the Individuals Data area:
Activities

Affiliation

Family Status

Gender

Marital Status

Membership Status

Offices

SS Class/Division

Talents

User 1

User 2

User 4
The View Configuration dialog has a new choice. A link there has been provided that will allow CMD users who have the Advantage Database Server installed for you system to see which other users are currently connected to CMD.
Suffix has been added to the name when printing a single envelope or label from within Enter/Modify/Delete Names.
New Features/Changes in CMD 2011.2
Summary of new features and fixes in CMD 2011.2
eDirectory
eDirectory 2011 is now finished and ready for download and use with CMD 2011 data files.
There are a few important eDirectory enhancements to note:
You can now elect to export birth and anniversary dates (month and day only)

You can now elect to include or exclude e-mail, cell, work, fax, and other phones separately for adults and dependents. All phone and e-mail confidentiality fields marked in individuals names and families are respected in the eDirectory data file.
Remember, eDirectory is a free program which you can distribute to your members who want to have an electronic version of the church directory on the hope or laptop computers (PC computers only).
Church Directory Options Enhancements and Changes
There are a number of important changes and enhancements for church directory printing:
Wrap Adult Text Lines. We added new feature to wrap text on adults lines in the new Customized format implemented in CMD 2011. I had already fixed that issue with dependents in 2011.1, and now 2011.2 adds it for adults. If the fix works well in Customized (I'll be interested in your feedback), then I'll add it to other church directory forms. This was needed because the additional information you can now add to the directory by using the Customized format could put the text length of the adults information beyond the width of the columns you defined. CMD now wraps this information to take up two lines if necessary.
Include Address Option in Customized. Also added to Customized in 2011.2 is a new check box which says Include Address. If you do not wish to print the address information but do want the names and phone number of a family, just uncheck this box on the Customized Setup dialog and the address will be omitted when the directory is printed.
Additional fields added to Church Directory ASCII Export Option. Gender, Cell and work phones, e-mails, and baptism dates have been added to the ASCII Export Church Directory Format.
5.5 x 8.5 Form improvements: Increased the possible dependents to 10, up from 4 in 2011.1. Also added a feature which will make the family members line fit the space available rather than truncating family members. This is the line that lists all family members which is located just below the Family Name and just above the horizontal lines above the picture. We cannot do a wrap there because the elements below it are placed in specific points on the page, so the only option here was to cause the font size to shrink to fit all the text in the space allotted for it.
In addition to a few minor internal adjustments, there is one new form that has been added to the Statements page:
Simple Summary Listing. One statement form has been renamed and this new one added. The old form was called

All Donations Summary for Report Period

. In 2011.2, this form now presents a very simple form: Name and Total Amount Given. That's it. It's a very efficient way to view all your names' giving as a simple total for any report period that you define. The old form is still retained unchanged, however, but now goes under the name All Donations Detail for Report Period. This form shows the giving of each name broken down into the accounts to which they've given during the report period.
A couple of minor but useful changes:
If you right-click the Print Contributions Statements icon on the speed bar, you'll get a menu of all the print functions for contributions. You can get the same items by clicking the Contributions menu, but there are also many other choices there. This function lets you see just the print-related choices for contributions.
New Video Training Menu. Since many of our users don't realize that there are a number of narrated training videos available, I've decided to add Video Training as a new menu choice on CMD's main menu. You can select from a number of categories and then see the videos available for each category. These are especially helpful for users just getting started with CMD, but are also useful for CMD veterans when they need to use a feature they've not worked with in awhile. Some of the videos need to be updated with the CMD's updated look and new features/fields added, and we'll be redoing those a little at a time as we get time. In the meantime, they are still quite useful. Especially note the two additions for Enter/Modify/Delete Names. There are new videos there for entering family and individuals information.
There were several important bug fixes in 2011.2. I'm not going to categorize them, but I will list the major ones we've fixed:
The Offices Rap Sheet option on the Offices Reports Output Form in Print Names would not print if your selection included a church office, talent, or activity.

In Church Office Terms, the Offices History or Interests lists would not display if you just finished printing an Offices Rap Sheet.

Also in Church Office Terms, the column adjustments should stick now when changing the size of the columns in Offices or Offices History.

General Access users could not add new names to CMD due to some permissions that I missed adding when I put together the new data files format. To fix this issue in your data file, have a CMD Administrative user log in, go to Preferences | User Administration, and click the button that says Fix General Access Permissions. After clicking this button, General Access users will be able to add new users.
The Age displayed in Enter/Modify/Delete Names did not erase when you clicked the + button on the navigation bar to enter a new family. It was left over from the name displayed prior to trying to add a new family.

Right-clicking directly on the Family Name field label in Enter/Modify/Delete Names is used to move a family to/from the Interest File. generated an error. That's been fixed.
New Features/Changes in CMD 2012
CMD 2012.1 introduced a new data engine for CMD, enabling users to have remote, off-site access to their CMD for a greatly reduced cost over past years.
Fixes & New Features in CMD 2012.2a
The new feature in CMD 2012.2a is making the main CMD program wait until 10 minutes of inactivity before it disconnects from a remote connection. I will be refining this feature for future updates, but right now, if you leave CMD connected for more than 10 minutes with inactivity, it will cut off your connection and you'll need to use the Task Manager to shut down CMD. It does this to protect against long-standing open internet connections. When I have more time to address this, I will try to put in place the same features already in place in Lookup and Front Desk which allow you to set a time (up to 15 minutes) to stay connected, and then you are logged out. This is much better behavior, but both Front Desk and Lookup are pretty much single-form programs. I have to devise the proper way to allow CMD to log out under such conditions without creating problems for whatever form you are currently in. Stay tuned...
There were 3 bugs that were fixed in this update:
In some circumstances, all e-mails would be included in a list instead of just the ones for the specific field selections you requested. Many, if not most, selections did not have the problem, but one line of code was missing which caused the problem when some menus were part of the selection.

The Names List that appeared on the Attendance Entry dialog actually used First Name rather than Goes By, which was listed.

eDirectory did not work correctly when building an eDirectory file was done using a Remote CMD data file.
New Features in CMD 2012
Enhanced and Expanded Family Name Field functionality
A new feature for the Family Name field edit box on the Enter/Modify/Delete Names dialogs was introduced in 2011, but has received significant upgrades in CMD 2012.2:
Optimized for 25-30% faster generation of the Family Name history list, which is built each time you enter the Enter/Modify/Delete Names dialog. This is especially noticeable if you are accessing your CMD data remotely.

The functionality has been modified and improved by enabling the drop-down box on the Family Name field only when you are adding a new family to your CMD data file. If you are not in the process of entering a new family, any clicks on the drop-down icon are ignored.
This change was made because some users thought that the drop-down list was a "lookup" list. Thinking it was a lookup list, some users might have "selected" another family name from the drop-down list thinking that in doing so CMD would display the family they "selected." However, since this feature is not a lookup list, the end result was often that the family name that was "selected" would be saved in the Family Name field of the original family, thereby creating what appears to be a mix up in the Family Name field information for a family.

By allowing the list to drop down only when a new family is being added, this potential error is completely eliminated

. If you need to lookup a family in CMD, click the Find Family button near the upper right corner of the dialog. For more information, read over the full help topic on this item under Family Name field.
Three improvements/additions:
Added the Family Name field and Parish field to the list of fields you can export in the ASCII Export output form.
Added Status Markers to the half-page (5.5 x 8.5) Church Directory form. Also adjusted the column width for the section that prints the individuals names and birth dates to accommodate longer names. Finally, the header line where the family name appears has been adjusted to show both last names in those families where husband and wife have different last names.
Added support for Avery 3381-format postcards. You can either use the Avery card, or you can use plain card stock and simply use your paper cutter to cut the cards down to correct size once they have been printed.
Iterative Reports are now working again, and Parish was added to the list of fields for which iterative reports can be printed.
Front Desk, Lookup, and eDirectory
These modules, present in past versions of CMD, have been added to CMD 2012.
Fixes
A number of smaller bug issues have been fixed with version 2012.1 - 2012.1g. Many of the bugs fixed in these versions were related to the change in the data engine (the new one did a number of things differently than our prior data engine did, and some of the differences did not show up until CMD 2012.1 received wide use). Most of them were related to data querying, and these were corrected when reported during the span of the 2012.1 version.
A few more bugs have been cleared up for 2012.2. Among them:
The Get Macro function on the Print Names Selection page has been fixed.

Pictures did not backup/restore properly but do now.

Fixed the Error #401 on tbUser1 that occasionally popped up. That was due to an incorrect Index name for the field, which has been corrected.

Fixed a couple of minor login issues that related to forcing a login if you restore a data file with a different set of user names and passwords.

Fixed a minor bug that didn't properly register a user as having logged out in some rare circumstances.

Various Contributions functions had some minor issues relating to the differences between our old and new data engine that were cleared up.
New Features/Changes in CMD 2013
New Features in CMD 2013.1
Primarily, the new features in CMD 2013.1 are based on the provision for adding specially-built web apps to CMD. A number of new fields have been added to make it work, plus the addition of the apps themselves.
In 2013.1, only the read-only web app designed for staff use is included. Note that this app is NOT password protected at this point, so it's important for you to limit knowledge/access of this app to trusted staff and lay leaders. It's up to you who you share it with, so be selective.
The basic 2013 program (whether as an update or a full order) also entitles you to a second web app that we have decided to include as well. This second app will be similar to the app designed for staff use, but will not display the Family Status, Date of Birth, and Age information. It will be suitable for general use as a device-based church directory. No modification of data will be allowed, and users will not be able to access any information other than what is displayed on their phone screen.
New Fields
CMD now contains new fields which will allow the church office to define passwords and user names for all members who will be using the web app on their phone or tablet device. A field has also been included that will determine whether or not a given parishioner can lookup other names other than his or her own family record.
The use of these fields will be added to CMD 2013.2, when the second web app is introduced.
More Web Apps Coming
As stated above, the general app for parishioners will be introduced with 2013.2. If time permits, I will also be developing an update to the initial app for staff members by allowing for limited updating of information from your phone or tablet. After that, an app for staff that will take advantage of a larger screen such as an iPad or other tablet with browser capability. Finally, an app to allow for attendance to be marked will be created.
Program Updates
In addition to implementing the new fields (and the tools to use them), I've added:

A new data table for a prayer list. It's already in your database, but it won't be usable until 2013.3.

There will be a few refinements in Contributions, and hopefully some addition optimizations in Print Names, especially when printing remotely.
These are in addition to the numerous requests for additional features and functions. I'll work my way through that list as best I can as the year progresses.
New Folder Structure
2012 was my first year using a new data engine to power CMD. The switch to the new engine was made in order to make the web apps and remote access features less expensive for you, our users. While I'm very satisfied with the performance of the new data engine, it has meant some learning time for me as well.
Starting in CMD 2013, I will be using a different folder structure for CMD and its associated elements that will make it easier for me to provide more automated updating. Translate that to mean that it should become easier to update from year to year now because of the structural changes I will be making. For those who are curious to know about it, here's a bit more info. If you don't care to know, just skip over this part.
When you install CMD 2013, the folder structure on your hard drive will look something like this:
CMD 2013 Backups
CMD-SFM
CMD2013

Data

Data2013

Church Data

Youth Clubs

Outreach

Pictures

Temp

WebApps
Except for CMD 2013 Backups, CMD-SFM will be the base folder. No more will you see folders off your C: drive such as CMD2011, CMD2012, etc. CMD-SFM will be the master folder for all CMD programs and elements starting with 2013. The CMD2013 folder under CMD-SFM contains all the program files for CMD 2013. In 2014, a new folder name CMD2014 will appear just below CMD2013, and all the other folders will remain intact as you see them above.
In the Data folder will reside the configuration files needed for CMD to operate, and under the Data folder, a folder named for the data for a given year's data files will be placed - in this case, Data2013. All data folders created for CMD files under CMD 2013 will then be placed under the Data2013 folder. In 2014, then, and new folder under Data will be created and named Data2014, under which all the data files created in CMD 2014 will be placed.
While there are two pictures files shown above, your setup will likely only have one of them. If you do not intend to use any of the web apps, your Pictures folder will appear after and on the same folder level as the Data folder. If, however, you will be using the web apps with your CMD 2013, the Pictures folder will be located under WebApps, because this is the only way the web apps will be able to retrieve the pictures for display with the web apps themselves.
Please don't modify the folder structure in any way without checking with me first. I designed this after much careful thought to make it easier to update from year to year. It will also leave your C: drive a bit cleaner looking since there won't be so many separate folders for CMD showing from the root drive.
New Features in CMD 2013.2
Updated Web-based Phone App!
CMD 2013.2 builds on the free web-based phone app first introduced in 2013.1. However, the updated phone app has a bonus - there's a page designed for only staff to see, and there's a page your general membership can see (at your discretion). We've called it Mobile Church Directory.
Read about its new expanded capabilities in the CMD Phone App help topic.
This phone app is provided free with your CMD 2013 program, however the proprietary web server is required in order to use it. If you would like more information on what it does or what it looks like, read the CMD Phone App help topic, and then do the live demonstration you can try right on your own smart phone (or web browser on your computer). The link to try the live demo is:
http://www.softwareforministry.com/html/livephoneaccess.html
If you need information on what's required to use the phone app, see the Server Setups help topic.
Web Access Setup Dialog
You will need a way to determine user names and passwords and lookup permissions for the new updated web-based phone app, and the Web Access Setup dialog provides the tools to do that.
There are global tools to set all names/families to basic settings so that you can just change the exceptions.
Specific tools allow you to define the user name/password for each family individually, plus you can determine if any or all or none of a given family's members are to be made visible to any searches by other members who use the app as a phone-based church directory.
Return of Backup/Restore to/from any destination on the fly rather than being forced to only Backup to or Restore from a single, designated folder.
The e-mail option for church directory Formats A,B, and C that was transferred a couple of years to the Customized Format, will be made available again to the basic Format A, B, and C formats.
A new addition to the end of the summary statement that can be used at year's end that will display the specific contributions of $250 or more after the summary information. That will save some space since the detail report for the other stuff is not really necessary and takes up too much paper.
A new Prayer List feature to track prayer requests that come in to your church.
Add the ability to search by First Name or Goes By in the Name Search dialog rather than just Last Name.
Some Output Forms can be sent directly to the clipboard.
A new grid-based Output Form presents data in a grid-like pop-up dialog.
"Snapshot" feature that can be selected as a screen that pops up on CMD startup, which will give you a few basic stats about names in your file as a summary so that you can see some basic stats at a glance.
Ability for staff members (or carefully designated lay-leaders/members) to mark attendance using the web-enabled, tablet-sized app. This will enable real-time attendance marking from right within the congregation during services.
Add the ability to update items on the phone app (staff only) and some of the items on the tablet-sized app.
A new field allows you to determine whether or not a family's picture should be made visible on the phone-sized app.
CMD 2015 comes in two versions: CMD "Classic", and CMD "FMX". Both versions are shipped with your CMD 2015 program.
CMD Classic
This version is the familiar CMD that you've been using. As an update to CMD 2014, CMD 2015 utilizes the new startup and church info process that is used by CMD FMX, including the upcoming Mac version of CMD.
CMD Classic retains all of the features and functions of CMD as you know it, and is there for you to use until CMD FMX is entirely built out. That is, if you discover that a feature in CMD FMX is not yet implemented, you can return to CMD Classic and use the function there.
CMD Classic and CMD FMX reside in the same folder and work on the same data in the same way, so you can easily and freely move back and forth between the programs as desired.
We will continue to update CMD 2015 in both Classic and FMX versions, with the ultimate hope of retiring CMD Classic at some point in favor of the CMD FMX version. It's possible this process may take both the 2015 and 2016 model years.
CMD FMX
This version of CMD is being built to accommodate WIndows and Mac versions from the same source code. One major by-product of using the FMX programming framework is that CMD is getting a thorough face lift. The same functions will be there, but it has a more modern and updated look to it.
Most dialogs will have the same features (ultimately) with few or slight variations. Early versions of CMD 2015 FMX will have most of the major functions included, and we will be working constantly during 2015 to flesh out the remaining functions so that CMD FMX will soon be as completely functional as CMD Classic.
Text messaging from within CMD. Set up accounts with either of our two inexpensive texting services and send either individual or group-based texts based on any CMD selection in Print Names.

Ability to define and use third-party, externally-provided barcode numbers (for example, on a key fob) to facilitate entering attendance.

You can now elect to print a list of names (Individual Name Output Form) in either First Name or Last Name order.

New Avery Postcards #3381, which prints 4 postcards per page.

New Church Directory form called Roster for Staff Use. Designed to print a compressed view of a family's information for placing in a notebook.

Continued build-out in FMX of more of CMD Classic's features.
Internal e-mail client is back (both Classic and FMX versions), with ability to include attachments.

You can now personalize both text messages and e-mails with First Name or Goes By fields.

CMD Lookup added for 2017.

Button cluster in the center of the main screen in FMX makes it easier to access the most used functions and features.
Brand new, fully hosted solution for CMD. This solution has a special platform that allows Mac computers to use CMD as well as Windows-based computers. This is the absolute simplest way to connect multiple computers for using CMD, as well as provide a Mac solution today.

New pie chart breakdown Output Form on Print Names which allows you to see a breakdown of any selected group of names by Gender, Age Group (which you can define), SS Class, Ethnicity, Marital Status, Family Status, City, or Zip Code.

SCP - Spiritual Care Providers field. Similar to the Parish field but with some key differences. You define your own list of SCPs, be they elders, deacons, or any lay or pastoral group of names who have been given the responsibility to visit, care for, or nurture specific congregation members. After names have been assigned, these SCPs can be given a special login level in CMD called Visitation Only. When an SCP logs in, they can only use the Visitation tracking dialog, and only the names assigned to them specifically are displayed. Each SCP can track their own visits, and any comments written in are only visible to that specific SCP and pastoral staff members.

Under construction, but hopefully ready by mid-January, we will finally have a child check-in feature which can be used to check children in and out of their SS division, children's church, and other children's activities.

More training videos to help with some of the new features as well as some of the well-established features.

Additional planned updates include some updates to the phone and tablet apps to provide more functionality and to work better with current devices.